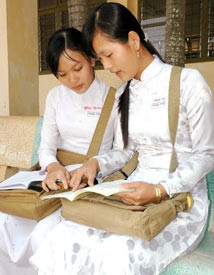 Students today pay more interest in current literary works.
The Education Publishing House, in cooperation with the Viet Nam Writer Association, awarded 12 students, who have the best critiques on short stories in Ha Noi on May 13.
The first prize went to Ngo Thuy Vy, an eleventh-class student of the Phan Chau Trinh High School in Da Nang City.
After nine months launching, the organization board of the short story critique contest received 13,326 writings by students of junior high school, high schools, colleges and universities nationwide.
Many critiques expressed interest in current literary works. According to the organization board, the contest's biggest achievement is to make reading culture in schools become livelier, improving student's morality, personality and lifestyle and contributing to reach the target of comprehensive education in schools.