The British Council held a seminar themed "UK-Viet Nam Vocational Education & Training – Policy & Cooperation" in the New World Hotel.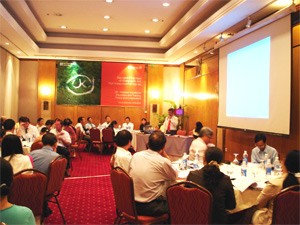 Mr. Nguyen Thanh Hiep (standing) is at the seminar(Photo: U.Phuong)
The seminar was held with presence of Mr. Nguyen Thanh Hiep, Head of Vocational Training Section, Ho Chi Minh City Department of Labor, War Invalids and Social Affairs, Mr. Luu Duc Tien, an official of Education and Training Department and Mr. Chris Weekes, Chairman of International Committee of UK Association of Colleges cum Director of International Office and representatives of British schools and Vietnamese schools.
Keith Dpavies, Director of British Council, said all Vietnamese engineers and technicians need to improve English and awareness of a wide range of skills necessary at the professional and technical level in the labor market. This is due to the increasing presence of multi-national corporations, the modernization of Vietnam's industry and Viet Nam's integration into the world economy.
At the seminar, Mr. Chris Weekes talked about qualification framework, strengths, flexibility and progress, international collaboration and quality assurance of British education. Mr. Nguyen Thanh Hiep presented the latest trends in the labor market, current situation and problem and needs for international collaboration including types, subject areas and tuition fees.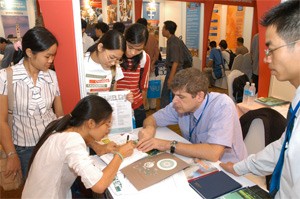 At the exhibition, students seek more information about the school and fee.(Photo: U.Phuong)
The participants shared ideas, experience and models for skills development that would be realistic and practical in Viet Nam, ideas for future partnership projects between UK and Viet Nam colleges, examples in international partnerships from British and Vietnamese colleges- legal framework, how it works and what issues are in regards to recruitment and quality.
After the seminar, the British Council held a UK further education exhibition in New World Hotel Saigon with representatives from 18 British colleges, focusing on pathways to universities.