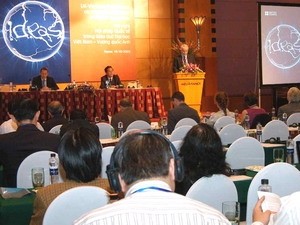 The conference is held in Hanoi, October 16 to discuss higher education (Photo: VNA)
Over 200 policy makers and institutional practitioners from the UK and Vietnam took part in a UK-Vietnam Conference on Internationalisation of Higher Education in Hanoi October 16.
The conference was organised by the British Council in coordination with the Ministry of Education and Training following a Memorandum of Cooperation in Education signed in 2008 between the UK and Vietnamese governments.
For the past several years, Vietnam and the UK have shared a common vision regarding the importance of reform in tertiary education to better equip graduates for work and for their role as global citizens. In the last decade, both countries have witnessed substantial growth in the number of their universities and colleges, and in the number of students entering higher education.
The two countries have agreed to work together to tackle a number of important issues including trans-national education, best practices in institutional partnerships, research collaboration, and quality assurance.
Speaking at the Hanoi conference, Dr. Nguyen Thi Le Huong, Deputy Director General of the Department of Higher Education under the Ministry of Education and Training, said Vietnam is carrying out basic curriculum change from 2006-2020. To achieve its targets, the country has implemented seven measures including developing international integration to enhance competition in the sector.
Several UK delegates will also take part in the annual Education UK Exhibition with participation of over 50 UK universities, colleges and schools. The exhibition will take place in Hanoi, Ho Chi Minh City and Danang on October 17, 20 and 22 respectively.