Finding a solution for effective university and college management is an imperative, education experts have said. They were discussing the issue at a Hanoi conference to review the 2008-2009 academic year August 25.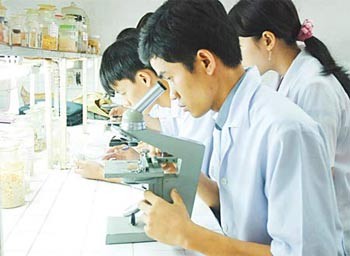 Students of Ho Chi Minh City University of Agriculture and Forestry in a lab (Photo: SGGP)
The conference was held by the Ministry of Education and Training and attended by Prime Minister Nguyen Tan Dung and the Deputy Prime Minister cum Minister of Education and Training, Nguyen Thien Nhan.
"There must be a change in quality and management in education of universities and colleges in next three years. In which, the spotlight is on management decentralization between the ministry and local authorities," said Mr. Nhan.
Since 1987, the university and college system has seen strong development, from an initial 101 universities and colleges rising to a total of 376 today, with more than 1.7 millions students and 61,000 lecturers.
Under the current system, the Ministry of Education and Training controls most major management decisions, with local government responsible for part of a university's management.
"If the Ministry checks two schools a week, it will take three years to make an inspection tour about the implementation of education management mechanism in all schools," the minister added.
The situation has been added to with only 46 percent of universities and colleges sending annual summary reports to the ministry, which can barely assess the quality of education.
Mr. Nguyen Thien Nhan admitted that there are three questions including how good the quality of education was, the standard of training management and why State money is poorly spent in the sector. Currently the ministry is not in a position to answer such questions, he added.
Students take part in an advanced training program at the HCMC Polytechnic University
Head of the University of Natural Sciences under the Vietnam National University HCMC Duong Ai Phuong, said that the ministry should give more executive power to schools to extend and enhance the quality of education.
Head of Hanoi Foreign Trade University Hoang Van Chau, asked for permission to collect fees for some high quality services of the school.
Hanoi Foreign Trade University has achieved success in increasing revenue by attracting foreign students and cooperating with foreign countries to develop advanced training programs, he said.
"The ministry should give more executive rights to schools for human resources, finance, qualifications licensing, teaching methods and others in accordance with the law," the Prime Minister agreed.
The ministry's policies on budget distribution for universities and colleges, regulations on PhD thesis defense, among others, must be opened to the public, he added.