Universities nationwide on Friday continued to announce results of the university entrance exams this year. However, universities have planned for reducing their standard marks because of low results, aiming to create more chance for students to study in higher education.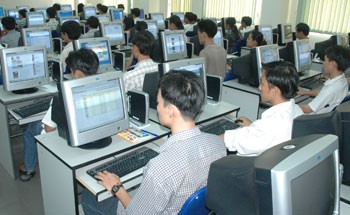 Students of HCM City University of Natural Sciences at a class. Studying in higher education is a dream of every high school graduate. (Photo: Mai Hai)
The national standard mark ruled by the Ministry of Education and Training is the minimum mark for university entrance. However, not all students who get marks higher than the standard marks may have a chance to study in higher education because every university or college regulates its own standard marks, depending on quality of students who apply for the school.
On the same day, plentiful universities in the north also published their results of entrance exams.
Student Duong Hoang Hung came first in the entrance exams of the National Economics University with 29.5 for three exam subjects of A group (mathematics, physics and chemistry).
To date, there are 20 universities announced their university entrance marks.

According to statistics from the Ministry of Education and Training, as many as 1.8 million candidates had registered for this year's examination, of which 1.3 million had applied for universities and 500,000 for colleges.
Nearly 54 per cent of candidates chose to sit group A subjects, followed by group B (mathematics, chemistry, biology) 19.8 per cent, group D (literature, mathematics, foreign languages 15.2 per cent), group C (literature, history, geography) 8 per cent, and the other groups nearly 3.4 per cent.