On Tuesday, the second phase of the university entrance examinations, attended by over 500,000 candidates, ended. Mr. Banh Tien Long, Deputy Minister of Education and Training concluded that both phases were conducted well.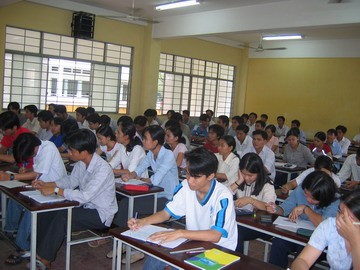 Candidates in an examination room
Thanks to the increase in the number of multiple-choice format exams, the number of cheating cases was greatly reduced. Mr. Long also confirmed that the total number of participants to sit the two examination phases reached 70.41% of the total number that had registered.

The tests were all printed clearly without any mistakes and the questions proved well suited to the students' level and are therefore a good basis for classifying the students' abilities.

At Tuesday's press conference, organized by the Ministry of Education and Training, Mr. Banh Tien Long declared that the results and the required pass marks would be announced by August 15.

The Education and Training Ministry also encouraged universities to post the results on the internet as soon as possible.