While libraries in many universities and high schools are almost devoid of readers, and piles of books gather dust, many students say they have to spend their own money to buy books, especially during peak examination time.
Minh Quan, a freshman from the University of Social Sciences and Humanities in Ho Chi Minh City, said anyone who wishes to read books can only do so at break time or off days because the school library opens between 8am till 5pm, when students are in their class.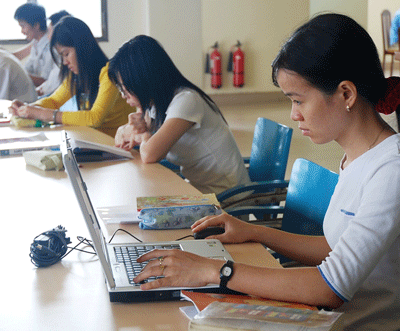 Students at the library of the Vietnam National University in Ho Chi Minh City (Photo: SGGP)
Hence, students are compelled to spend money to buy books to save time, while those from low-income families resort to photocopying books or buying second-hand books.
Pham Thi Hien Hoa, a staff member from the Pedagogy University in District 5, admits the timing is inconvenient for students, but there is no choice as shortage of staff and low salaries hinder extra working hours to serve book lovers.
A group of twelfth grade students of Gia Dinh High School in Binh Thanh District pointed out that a limited budget is a handicap for library activities; accordingly, students can only borrow magazines or newspapers for leisure reading not for study purposes.
Tran Thi Thu Thuy, a staff member in the library at the Agriculture University, said due to a limited budget the library cannot serve its purpose effectively.
Since 2008, the Ministry of Culture, Sports and Tourism has stipulated a pathetic allowance for library staff. As per regulation, librarians will receive two per cent of basic salary as allowance.
In addition, staff will be offered VND4,000 ($0.19) per day. This sum of VND4,000 is dissatisfying, said Bui Xuan Duc, manager of the General Science Library in HCMC.
Last but not least, there is no official standard regulation for the running of libraries; consequently, each library works autonomously. 
Tran Thanh Xuan, a librarian at the Medicine University in the city, provided many examples about this as he has toured libraries in universities across the country. The libraries with good sponsors from foreign counterparts work excellently and effectively such as in Can Tho University and Poly-Technique University in the central city of Da Nang.
As yet library activities in educational facilities in HCMC, the country's hub for economic, cultural, tourism, educational, technical, scientific activity are unconnected with each other. Poor allowances for staff are intermittent and librarians have to "knock doors" everywhere to ask for sponsors for new documents and books.
It is high time that finances are provided for library activities and library staff given better salaries and allowances so as to make these centres of learning much more effective in serving their purpose, said delegates of the National Assembly at a seminar organised to discuss the library law draft in HCMC.