President Nguyen Minh Triet on Sunday conferred the Labor Hero title on the University of Science Ho Chi Minh City for its excellent achievements in labor and creativeness, contributing in the development and protection of the country.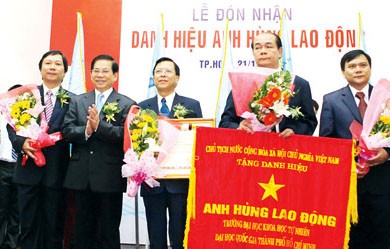 President Nguyen Minh Triet (the second from the left) at the ceremony held to receive the Labor Hero title of the University of Science HCMC on November 21 (Photo: SGGP)
At a ceremony that the university held to receive the title in HCMC, President Triet, the school's ex-student, acclaimed and congratulated outstanding performance of the university's lecturers, officials and students in 70 years of building and development.
He also encouraged the university to promote its revolutionary tradition, strengthen scientific researches and application, and toughen collaboration and exchanges with other domestic and foreign universities.
The University of Science HCMC was originally a department from the Indochina College of Science, which began operating in 1946.  In 1956, this department was renamed "Science department" and merged to from Saigon University.
It then was  merged with several other schools and colleges to form the Commons University In 1977. Since 1996, it was officially named the University of Science HCMC, as a member of the Vietnam National University.
It was the first university in the southern region to have Party cell and a cradle of the movement which students fought against the US invader before 1975. A host of professors and doctors, working domestically and abroad, have grown up from this school.
The university now have nine faculties offering 52 bachelor of science degree programs and 32 master's and doctoral levels, 14 training and scientific research centers with over 16,000 students and 1,200 teachers and officials.