Five Vietnamese technical universities have been selected to be part of a three-year program designed to enhance the quality of engineering education with U.S. assistance.
In collaboration with the government of Vietnam, the United States Agency for International Development (USAID) is working with Arizona State University, Portland State University, and Intel Corporation as part of the new Higher Engineering Education Alliance Program valued at US$2.5 million.
A memorandum of understanding on the program was signed in Ho Chi Minh City Tuesday by representatives of the Vietnamese Ministry of Education and Training, the U.S. Embassy, USAID, Intel and Arizona State University.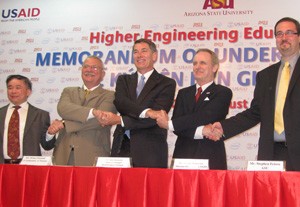 Representatives of the Vietnamese Ministry of Education and Training, the U.S. Embassy, USAID, Intel, and Arizona State University at a memorandum of understanding signing ceremony in Ho Chi Minh City August 24, 2010 (U.S. Embassy handout photo)
Intel's anticipated contribution to the program totals US$1.5 million, according to the American Embassy.
The five selected universities are Hanoi University of Technology, HCMC University of Technology, Can Tho University, HCMC University of Technical Education, and Danang University of Technology.
"This program will result in a more highly educated and motivated faculty using cutting edge curricula," U.S. Ambassador Michael W. Michalak said in a statement.
"They will train bright and successful engineers who will help Vietnam reach its rightful place in the global economy."
Rick Howarth, General Manager of Intel Products Vietnam, said in this Tuesday announcement, "The countries that lead in innovation have these things in common: an excellent higher education system and a strong alliance between academia and industry."
"This is what we are working to create here, so that Vietnam will become one of the global leaders in high-tech," he added.
The project partners will recruit and train engineering professors and students from Vietnamese universities, develop curricula, and increase collaboration between universities and industry.