Through American Red Cross, the U.S Agricultural Department donated US$3.1 million to Viet Nam Red Cross Society's school milk project.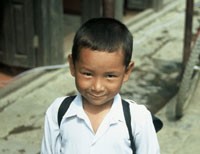 A boy goes to school.

Under the project, from February, 2006 to November, 2007 pupils from first to sixth grade in 6 provinces of Lai Chau, Dien Bien, Nghe An, Ha Tinh, Quang Ngai, Quang Binh  will have milk and nutrition cakes at school. The aim of the project is to improve the pupils' constitution.