The Kon Ray Ethnic Minority Boarding School, inaugurated on Friday, will benefit disabled children in the highlands province of Kon Tum.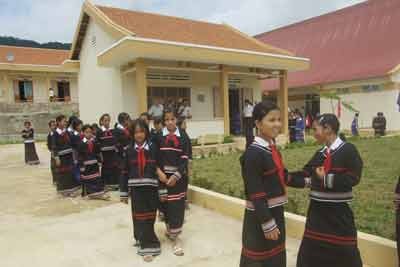 Ethnic minority students at the new school (Photo: Sy Thang)
The U.S. Agency for International Development-funded school began admitting students in the area. USAID provides VND9.4 billion (US$605,000) and the province supplies VND2 billion (US$120,000).
Two hundred forty students from ethnic minority groups in the area enrolled for the 2008/2009 school year. The construction and related programs were managed by the East Meets West Foundation.
The modern Kon Ray Boarding School offers excellent facilities and resources to students including special classes in both regular education and vocational training for children with disabilities.
"This is an important project that will benefit many, particularly young people from ethnic minority tribes and the disabled," said Ambassador Michalak.  "I look forward to supporting education programs like this that will ensure a better life for all and provide tools for Viet Nam to compete even more effectively in today's global economy."
Kon Ray Boarding School was built in cooperation with local governmental agencies to help to reduce the education gap between mountainous areas and urban areas.