The video clip recorder of exam cheats in Nam Dan 2 School in the central province of Nghe An with the nickname Edu 2 agreed to disclose his identity Thursday.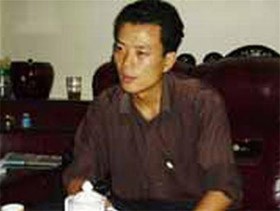 Teacher Le Dinh Hoang recorded the unsupervised exam hall in Nam Dan 2 School
Edu 2 is the nickname of a geography teacher named Le Dinh Hoang, 29, who has graduated from the Hue Pedagogy University and been teaching at Thanh Chuong semi-public high school since 1999.

In the latest national high school graduation examination he was assigned as a supervisor at Nam Dan 2 School.

He recorded video clips with his mobile phone and launched them online to provide explicit evidence of exam cheats.
The video clips were sent to the website edu.net.vn of the Education and Training Ministry (MET). The four clips entitled "Inside Exam Room", "Keys-to-Test-Paper Distribution", "Geography Examination", and "Foreign Language Examination" contain pictures of unsupervised exam corridors, invigilators seated in the corridor acting as lookouts for students cheating inside, examinees snatched test papers from others.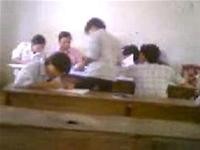 A scene in the video clips
Moreover, in the clip "Keys-to-Test-Paper Distribution", one can see that groups of people are blatantly throwing answer notes into exam rooms, examinees gather at the back of the room to copy from the notes.

As soon as the clips was launched on the MET website, the Ministry's IT center began an investigation and found out that the exam in the clips had taken place at Nam Dan 2 School in central Nghe An province. 

In an interview with Sai Gon Giai Phong reporter on September 2, Mr. Le Tien Hung, director of Nghe An Education and Training Department, affirmed that his department had seriously dealth with the wrongdoings at Nam Dan 2 School. Accordingly,
the department had cut the emulative titles awarded to the Nam Dan Office of Education and Training and Nam Dan 2 School. Further inspection will be carried out.

At that time, the film recorder remained anonymous.