Five Vietnamese students who competed in the 38th International Physics Olympiad have brought home two gold medals, two silver medals and one special mention, said Vu Dinh Chuan, the deputy director of Da Nang's Department of Education and Training.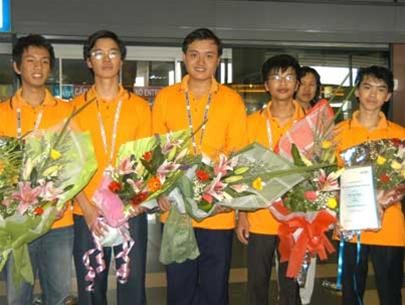 From left to right: Silver medalists Mai Thanh Tung and Do Hoang Anh, gold medalists Bui Duc Thang and Nguyen Tat Nghia and Nguyen Ngoc Hung ( Photo: Vietnam News Agency)
The gold medal winners are Bui Duc Thang, a 12th grader at Le Quy Don High School in Da Nang, and Nguyen Tat Nghia, an 11th grader at Phan Boi Chau High in Nghe An Province (both in the central region).
Do Hoang Anh and Mai Thanh Tung from Ha Noi captured the silver medals and Nguyen Ngoc Hung, who attends university in Ha Noi, won the special mention.
The medal tally is Viet Nam's biggest yet in an international science competition for students.
This year's event from July 14 to 21 drew 327 contestants from 69 countries to Isfahan, Iran's third largest city, Vietnamese team captain Nguyen The Khoi told reporters.