The Ministry of Education and Training (MoET) has called on international donors to invest US$1 billion from now to 2010 into nine education projects, including four universities meeting international standards.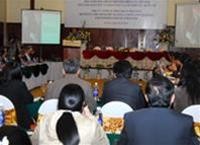 The conference held by the Ministry of Education and Training in Ha Noi on March 6
Viet Nam has carried out nine ODA projects worth US$825 million for the education sector since 1998, three of them finished in 2007.

It has also managed six other projects using non-refundable aid of US$25 million.

At the second annual dialogue meeting between MoET and the education sector donors' group in Ha Noi on Thursday, Deputy PM Nguyen Thien Nhan, who doubles as MoET's Minister, said international donors have helped Viet Nam develop its educational system from kindergarten to higher education.

Representatives from the Asian Development Bank (ADB), UNICEF, UNESCO and others discussed their interest in issues such as education for the disabled, teacher training for primary schools and the use of ODA in localities.

They also highlighted projects to build international standard universities and train teachers to meet market demand.

Deputy PM Nhan pledged to use ODA effectively by increasing capacity of ODA program and project design, and by supervising and managing the implementation of the projects.