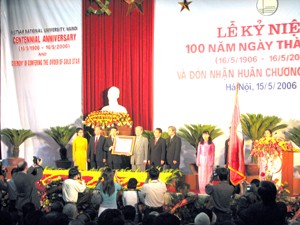 At the award ceremony
The Viet Nam National University (VNU) – Ha Noi celebrated its 100th anniversary and was awarded the Gold Star Medal at the capital city of Ha Noi on May 15, 2006.
Speaking at the ceremony, State President Tran Duc Luong highly appreciated the contributions of the institution and assigned some key tasks to the national university in the near future.
The VNU-Ha Noi must show its full strength in fundamental science, multi sector training programs and scientific research.

The core curricula should be regularly updated in a bid to strengthen the link between the academia and the industry and to enrich the highly qualified workforce, he added.
The VNU-Ha Noi's staff, up to 2,700, has increased in both quality and quantity. Over half of them are qualified and experienced lecturers. Many of the VNU's scientific research projects have won honorable prizes including 13 Ho Chi Minh Prizes and 16 State Awards, not to mention other tens of scientific prizes.
The opening ceremony of the conference "International Forum on Tertiary Education for the 21st Century" was held on the same day.
The conference, one of a series of activities to mark the 100th founding anniversary of the University of Indochina (1906), the forerunner of the present VNU-Ha Noi, is designed to share experience and learn from each other about the educational issues to set up the effective tertiary education in the country.
Over 30 scientific research papers were presented at the conference, most of which focus delegates' attention on the challenges of higher education in the 21st century, modernized administrative system, international standard applied in teaching and so on.
In the fast-growing development of sciences, technology and general knowledge, Viet Nam gives priority to education, science and technology improvement. Fundamental change in education, especially in higher education, is focal point of the Education Development Strategy for the 2001-2010 period and the Vision to 2020.
Attending the ceremony were Deputy Prime Minister Pham Gia Khiem, plus nearly 300 managers, educators and delegates from 38 external universities and international organizations.