Six Vietnamese students grabbed three gold and three silver medals, taking third place at the 48th International Mathematics Olympiad (IMO). This is the highest ranking Viet Nam has achieved in its 29 IMO competitions since 1974, announced Deputy Minister of Education and Training Tran Van Nhung.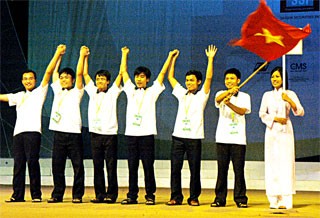 Six Vietnamese students at IMO 2007
Vietnamese captain Vu Dinh Hoa told reporters that team trainers had not set any record of medals prior to the competition, but encouraged them nonetheless.
This is the most outstanding achievement that Vietnamese students have made so far with three gold and three silver medals, ranking third among 95 delegations. Russia ranked first, China second, Viet Nam third and the Republic of Korea (South Korea) fourth at IMO 2007.
The three Vietnamese gold medalists are Do Xuan Bach, a 12th grader, and Pham Duy Tung, an 11th grader, from Ha Noi National University; and Pham Thanh Thai from a gifted school in the northern Hai Duong Province.
Nguyen Xuan Chuong, from the northern Vinh Phuc Province, Le Ngoc Son from the northern Bac Giang Province and Dang Ngoc Thanh from the central province of Quang Binh captured the silver medals.
Link:
Today's Mathematicians Show Their Mettle
Viet Nam Hopeful of Medals in Math Olympiad