Diplomas granted to Vietnamese by accredited foreign education facilities will be recognized in Viet Nam, according to a recent regulation issued by the Ministry of Education and Training.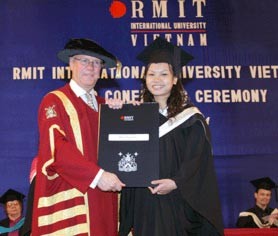 A graduation ceremony at the RMIT International University in Ho Chi Minh City
Bachelor, Masters and Ph.D. degrees, as well as junior high school, high school and college diplomas granted by foreign campuses will now be recognized by state agencies in Viet Nam.
However, this recognition will only occur when such organizations have been accredited by the Vietnamese Department for Educational Testing and Quality Assessment or by their local countries' authorities.
Foreign campuses and educational institutions located in Viet Nam will have their diplomas automatically recognized.
Diplomas granted to distance learning students will only be accepted if the program has been recognized by the Vietnamese education ministry.