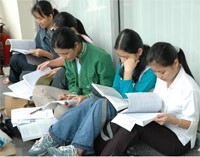 Vietnamese Students are reviewing their lesson
Viet Nam
is set to build two modern university communities, each able to accommodate about 200,000 students, in northern Bac Ninh Province and southern Long An Province.
In Bac Ninh, the university will be located on an acreage of 440 ha in Tien Du District, around 30 km from Ha Noi, while other in Long An Province, 18 km from Ho Chi Minh City, will have a primary acreage of 180 ha and will soon be expanded by an additional 250 ha.
This project has been approved in principle by the Prime Minister
Mr Tran Hong Quan, President of the Association of Non State Universities and Colleges said, each city will include universities and colleges, hi tech labs, dormitories, hospitals and entertainment centers for students. The cost for each city is estimated VND 6 trillion (over US$ 350 million).
The Association is also designing a project to build another university city with acreage of 300 ha in Hue City, Mr Tran Xuan Nhi, Vice President of Association, said.
Viet Nam now has 311 universities and colleges, including 37 non state ones. The country has a college enrollment rate of 167 students per 10,000 people, which it strives to raise to 200 by 2010, according to the recent tenth Party Congress's resolution.