An official from the Institute of Human Research said the first PhD course on anthropology in Viet Nam will be offered. As planned the entrance exam will take place in May, 2006.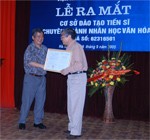 At the meeting to introduce the course
Candidates must have fair master's degree in anthropology or ethnology. Besides, candidates must have at least two essays published in scientific journals.
An anthropology PhD course will last for four years.