The US-based Vietnam Education Foundation (VEF) and its partners opened the Vietnam OpenCourseWare Website on Wednesday morning, marking an important landmark for the success of the long-term VOCW joint project from 2005.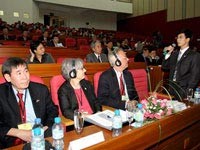 The launching ceremony of the website takes place in Hanoi University of Technology yesterday.
The launching ceremony took place at Hanoi University of Technology. Two other VOCW launches will take place at the University of Da Nang on December 13 and at Vietnam National University - Ho Chi Minh City on December 14.

The joint project started in 2005 between VEF, Vietnam's Ministry of Education and Training, and Vietnamese company VASC, with international supports from Massachusetts Institute of Technology OpenCourseWare (USA) on the framework, and RICE University Connexions (USA) on the software tools.
The project, which is sponsored by VEF, aims to provide a solid infrastructure and appropriate tools as well as technical support and training for the development of OpenCourseWare/Open Educational Resources (OCW/OER) in Vietnam. Other goals include developing high quality course content based on available OCW/OER from leading universities in the world and initiate a VOCW content repository, and establishing a Vietnamese OCW/OER users community.
Besides three data centers in Hanoi, Danang, and Ho Chi Minh City, the project has 14 local cache servers at member universities in the three cities, Can Tho, Hue, Daklak, Thai Nguyen and Tra Vinh.