Vietnam is keen on strengthening co-operation in the education sector with the United States, including the building of the Fulbright University Vietnam (FUV), Prime Minister Nguyen Xuan Phuc said yesterday.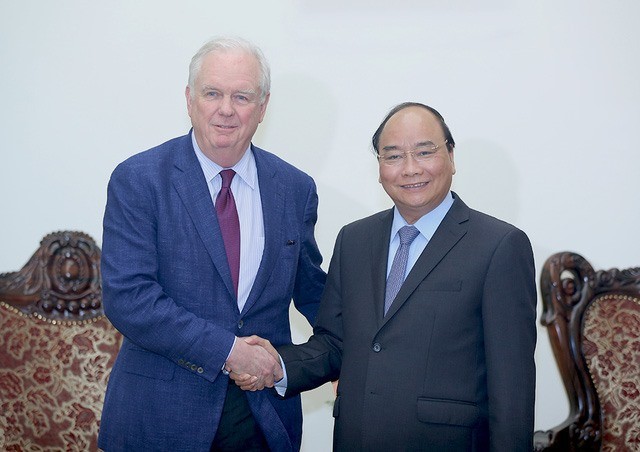 Prime Minister Nguyen Xuan Phuc(R) receives Professor Thomas Vallely of Harvard University in Hanoi yesterday. — Photo dantri.com.vn
Receiving Professor Thomas Vallely of Harvard University in Hanoi, the PM also said the nation looked forward to having FUV emerge as model institution that would facilitate the creation of jobs and start-ups.

According to Phuc, Vietnam needs to continuously boost educational co-operation with the US, a world leader in advanced education, as the country mobilizes all of its efforts to achieve three crucial breakthroughs in development targets: rapid and sustainable development alongside the development of high quality human resources.

The two sides have worked together to set out all legal procedures for the FUV project.
"Vietnam backs the university's independent and non-profit higher education model in line with international practices," he added.
Prof. Vallely said the US Government would provide funds for building the FUV. The US side was focusing on establishing an appropriate management mechanism for the university to make it a leading educational institution in the region and the world, he added
FUV training programs would mainly concentrate on startup development and global economic linkages, including connections with Silicon Valley, Vietnamese entrepreneurs and scientists in the US, Valley said.
Vallely said American public opinion welcomed the recent phone call between PM Phuc and US President-elect Donald Trump as a step towards strengthening bilateral relations.