Vietnam's Ministry of Education and Training and the Embassy of Switzerland launched a joint forum to promote higher education in Vietnam.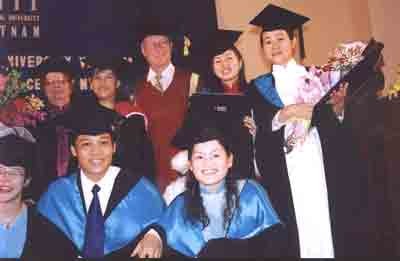 Vietnamese university students at a graduation ceremony (Photo: U. Phuong)
Many universities and institutes of Vietnam and Switzerland participated in this Vietnam-Switzerland cooperative university education program forum.
According to Deputy Minister of Education and Training Tran Quang Quy, the ministry will encourage cooperation between the two countries, aimed at strengthening education and promoting mutual understanding and for furthering economic, trade, service, sci-tech development in both countries.
The two sides also agreed to organize a similar forum in Switzerland in 2012 with an aim to create favorable conditions for Vietnamese students to study in Switzerland and form a bridge between the two nations.
Andrej Motyl, Swiss Ambassador to Vietnam, suggested that the Vietnamese government build legal frameworks and appropriate policies to attract more foreign investors in the field of education.
Switzerland has always endeavored to assist Vietnam in developing the education sector as well as tourism and hospitality skills, he added.