The Vietnamese Government will not cut down on spending for education and healthcare, affirmed Deputy Prime Minister and Education Minister Nguyen Thien Nhan.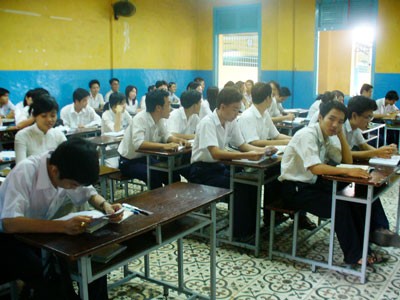 Vietnamese Government will not cut down spending for education and healthcare, says Deputy PM Nguyen Thien Nhan  (Photo:U.Phuong)
The Deputy PM made this comment while delivering the opening speech at an international workshop entitled "Innovative Financing in Education: Implications for Asia" in Hanoi on April 1.
Deputy PM Nhan added that the government allocates one-fourth of the state budget to education and training. Towards the goal of giving all children in the country an opportunity to attend school, the government priorities investing in infrastructure, supplying 75 percent of funding needed for classes, schools, and credit programs for poor students. 
However, like many other countries across the world, Vietnam is also currently faced with a shortage of capital to spend on education, particularly given the economic crisis.
One participant at the workshop, Professor Ka Ho Mok from Hong Kong University, explained that foreign aid for education in developing Asian nations will be decreased, while a recent survey showed that more and more families are being forced to pull their children out of school and employ them in the illegal workforce.
At the workshop, international education experts and regional policy makers and stakeholders discuss ways to finance the under-funded education sector in Asian countries, including who must shoulder the burden of paying for education, the role of government and private sector in providing funding, barriers to private sector involvement in education and various alternative options for financing education.
Attendees will share knowledge and experiences, and discuss information and practices in countries both in and out of the region.
The conference, held by the World Bank, will last for three days where educators seek innovative ways to ensure countries achieve the Education for All (EFA) as part of the Millennium Development Goals

Related article:
Int'l workshop discusses education financing ways for Asia