Following the success of the first scholarship award from Vietnam Van Thinh Phat Group Holdings Scholarships for the 2013 academic year, Van Thinh Phat Group Holdings will offer two full scholarshipsfor the 2014 academic year worth HK$ 200,000 per year for each Vietnamese students to study atThe University of Hong Kong (China).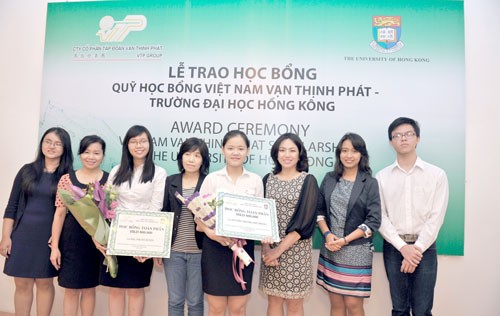 Van Thinh Phat leaders award scholarships to students
The Scholarships shall be awarded to those aiming to study the following majors such as bachelor of Business Administration in Accounting and Finance; any undergraduate programme offered by the Faculty of Architecture; and any undergraduate programme offered by the Faculty of Engineering.
This full scholarship covers all necessary expenses (*) related to education and living of scholars throughout their study in HKU including application fee, Visa fee, tuition fee, airfares, accommodation and personal living expenses.
The Scholarship shall be tenable throughout the course of study subject to a satisfactory academic performance being maintained, i.e. GPA of 2.8 or above.
The scholarship aims to support 1st-year students who studying at any public universities or 12th-graders at any high schools in Vietnam, especially needy ones, with the following requirements such as an average of 8 marks over 10 of all 3 subjects in the past Entrance Exam (for freshmanstudents); or an average of 8 marks over 10 of all subjects in Grade 10, 11 and first semester of Grade 12 (for 12th-graders at public high schools); or D an achievement score of 39 and above under IB assessment system (for 12th-graders at international high schools); and A minimum overall band of 6.5with no subtest lower than 5.5 in the International EnglishLanguage Testing System (IELTS);/ a score of 550 or above (paper-based test) or 80 or above (internet-based test) in the Test of English as a Foreign Language (TOEFL).
Application can be submitted from November 13th to November 28th, 2013 Application includes
Personal Statement Letter; Resume; Copies of Academic documentations: confirmation of the current university, result of the past entrance exam, academic report of Year 10 – 12 (first semester of grade 12), and valid test report form in English competence; Copies of Personal documentations: ID, Household registry, temporary residence record;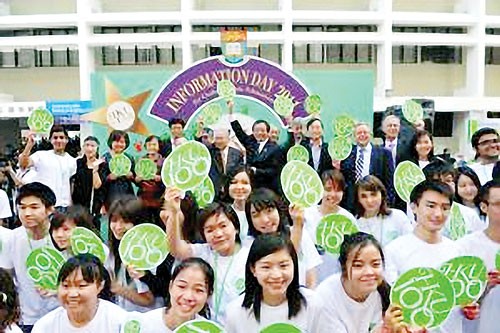 Activities of vietnamese students in the University of Hong Kong (China)
Candidates who have been admitted by the HKU for a study programme will be interviewed by the Scholarship Selection Committee.
Only successful candidates shall be informed and invited to a meeting with the top management of Van Thinh Phat Group Holdings Company Limited, and are required to sign a Bonding Agreement as a commitment to have a working position at the Company or associates upon graduation.

(*) Note: The full scholarship does not cover certain costs of application such as costs of document dispatch, costs of notarizing documents (if any), other miscellaneous costs and costs incurred going beyond the scholarship amount. It is the responsibility of the student to cover these additional costs.