Vietnam won honors at a prestigious Japanese chipset design contest called "Large Scale Integrated" (LSI).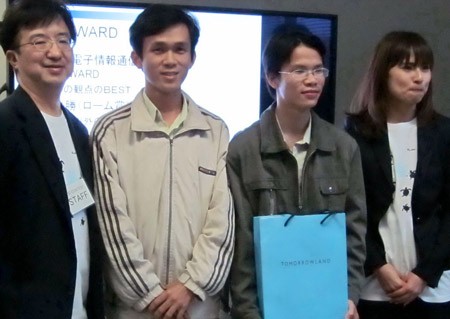 The "kitten" team of Nguyen Pham Hoang Dung and Huynh Quang Trung (center) at the awards ceremony (Photo: SGGP)
Vietnam's two teams, FETEL 07 and Kitten, won the first and second prize in the 14th Large Scale Integrated (LSI) Design Contest held in Okinawa in Japan from January to March.
According to Ngo Duc Hoang, director of the Integrated Circuit Design Research & Education Center (ICDREC), this year's contest was quite difficult. 
The judges required contestants to design the image compression and decompression system using HDL (VHDL or Verilog HDL) and to synthesize digital circuits using Synopsis design analyzer or any other EDA tools. Moreover, making FPGA was also optional but the judges preferred to see FPGA designs.
Hoang said the judges assessed entries based on practical implementation in industry besides speed and accuracy.
Tang Phuong Phuong and Nguyen Phu Khanh of the team FETEL 07 of university level outsmarted other contestants in the first round. Phuong said he decided to enter Faculty of Electronics and Telecommunications at HCM University of Science due to his love for Physics and Chemistry, yet he did not know what chipset design was. Later he wanted to discover the field to understand more about physics and chemistry and then he gradually grew to love it.
Under the guidance of Dr. Huynh Huu Thuan, Phuong and his classmate Nguyen Phu Khanh made an effort to design the chipset to take part in the contest but they did not think they could pass the first round.
After one passes the knockdown round, only a guidance teacher and one member are sponsored for the final round. They decided Phuong would go to Japan for the contest, as Phuong was good in technical skills and English and they hoped that he would win the contest.


Nguyen Pham Hoang Dung and Huynh Quang Trung, known as the "Kitten" team and members of ICDREC under Vietnam National University Technology Park (VNU-ITP), won the second prize at the competition. The host team, Three Sun, won the third prize.

This is the second time Vietnam has taken part in the contest. The "Little Chickens" team of engineers Tran Thi Hong and Luyen Duc Hanh won the top honors in the same contest in 2010.

This year, the Kitten team continued its tradition to win the honors prize. Following this brilliant success, he will receive a scholarship to learn chipset designing in Japan, the leading nation in this field.

The Association of Industry Renovation and Semiconductor Technology in Kyushu, Japan set up the International LSI Design Contest in 1997. Undergraduates and graduates from different colleges and universities in the Asia Pacific region participate in this annually.

The winners receive scholarships for further studies and research in Japan. Last year, Tran Thi Hong, member of the Vietnamese first-prize winning team, received a post-graduate scholarship from Kyushu Industrial University. 
Related article:
VN engineers win first place in chipset design contest