Vietnamese students excellently won two gold and one silver medals at the 2016 International Chemistry Olympiad (ICO), reported Ministry of Education and Training on August 1.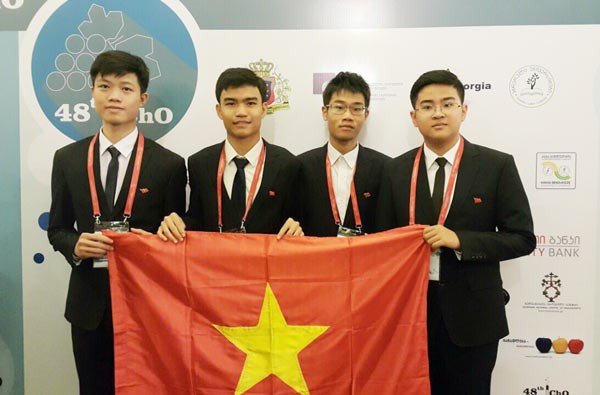 Four Vietnamese students participate in International Chemistry Olympiad 2016 in Gruzia. (Photo:SGGP)
Particularly, two gold medals belonged to Dinh Quang Hieu, the 11th grader from the Natural Sciences High School of Hanoi National University; Nguyen Khanh Duy, the 12th grader from Lam Son High School in Thanh Hoa province.
Nguyen Thanh Trung, the 12th grader of Le Hong Phong High School in Nam Dinh province earned the silver medal.
The 48th International Chemistry Olympiad is held in Tbilisi Capital of Gruzia, with the participation of 280 contestants from 75 countries and territories worldwide.
At this year's competition, Chinese student delegation was positioned first with four gold medals.
Meanwhile, student delegation of Russia, Rumani, Korea and Taiwan (China) owned three gold medals. Vietnam, Thailand, Singapore, India and Iran grabbed two gold medals each.
Education and Training Ministry held a welcome ceremony for Vietnamese students at Noi Bai International Airport at 8: 20 am this morning.