Ho Chi Minh City University of Pedagogy earlier had conducted trials to provide the Intel® Teach program to about 85 officials and tutors and 591 students during the academic year of 2004 - 2005.

After the trial, Intel® Teach's curriculum has been proved to be compatible with the training curricula of the Education, Methodology and IT Basics modules of the University. This will be a strong momentum to plug budding teachers into technology.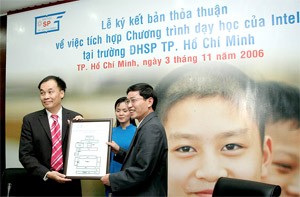 Mr. Than Trong Phuc (1st,L) and Dr. Bui Manh Nhi with the MoU ( Photo:D.Quang)
The integration is planned to start from the academic year of 2006 – 2007, along with the University's new training curriculum.

According to this MoU, Intel® Teach will be integrated as a mandatory subject into the curriculum for full-time students in faculties at Ho Chi Minh City University of Pedagogy.

English Department is the first faculty of the University to officially implement Intel® Teach-integrated curriculum from the first half of the academic year of 2006-2007.

Support from Intel will also include providing 2,500 textbooks and CDs for the first three years of officially implementing this integrated training program.

Addressing the ceremony, Dr. Bui Manh Nhi, Rector of Ho Chi Minh City University of Pedagogy said "IT technology has been creating a real revolution in all aspects of people's lives including education."

"Therefore, with this MoU signed today, we expect that Intel® Teach program will greatly assist in the training of a modern teaching force with skills needed for the future that will open a wide range of new opportunities for Vietnamese students and schools." he added.

"Preparing Teacher Educators for a technology-driven education is essential," said Than Trong Phuc, Country Manager, Intel Viet Nam and Indochina."


Intel® Teach is part of the Intel Innovation in Education initiative, a unique collaboration with educators in communities around the world to improve the quality of engineering, mathematics, science and technology education to help students develop the higher-level thinking skills they need to succeed in a knowledge-based economy. The program incorporates the use of the internet, web page design and student projects. Intel® Teach was launched in 2000 and has trained over three million teachers in 36 countries. For further information, visit www.intel.com/education
Intel® Teach was officially introduced in Viet Nam by Intel and the Ministry of Education and Training (MOET) in December 2005. The Vietnamese localized Intel® Teach program has been approved by MOET. About 7,000 university, college and high-school teachers nationwide have received training so far.