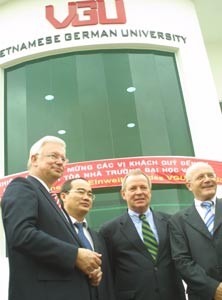 Vietnamese Deputy PM Nguyen Thien Nhan (2nd,R), Hessen State Governor Roland Koch (1st,L) and unidentified German officials in front of the university on Wednesday (Photo: Truc Thinh)
The Vietnamese German University, a German-modeled public university in Viet Nam, held an inauguration ceremony for its fist academic year in the witness of senior officials from the two countries.
Vietnamese Deputy Prime Minister cum Minister of Education and Training Nguyen Thien Nhan, and Mr. Roland Koch, Governor of Germany's Hessen State, who is visiting Viet Nam, and Andreas Storm, Parliamentary State-Secretary of the German Federal Ministry of Education and Research attended the opening ceremony
The university is located inside the Thu Duc District campus of the National University Ho Chi Minh City.
The university is a key project in Viet Nam's educational reform and a symbol of educational and training cooperation between the two countries, Vietnamese Prime Minister Nguyen Tan Dung told the visiting Hessen Governor during their meeting on the same day.
The tuition fees for the foundation year and the bachelor program are US$1,500 per year. In 2008, 50% tuition waivers are available for all students. In the first academic year, the university plans to recruit 80 students for university-level training courses in civil engineering and electrical engineering. English will be the main language for teaching and studying at the university.
According to the German Consulate General in HCMC, the project was founded in Feb. this year as a cooperation project between the Vietnamese Ministry of Education and Training, and the Hessen Ministry for Higher Education, Research and the Arts.