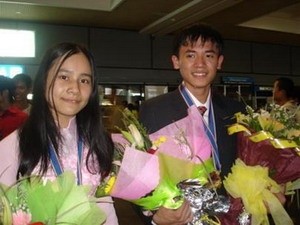 Vu Minh Chau (left) in last year's competition.
Vietnam's Vu Minh Chau won the top prize at the International Chemistry Olympiad for the second year in a row at the 41st Olympiad that ended at Cambridge University in the UK on July 27.
She is a 12th grade student at the Hanoi University of Science.
Do Quy Son, the head of the Vietnamese delegation, said all four team members won medals, with the others winning two silvers and a bronze.
This year the event attracted competitors from 67 countries and territories, with Taiwan, Russia, and China claiming top honors.