Many Vietnamese families have recently a trend of choosing international schools for their children. They express their hopes for a brighter future for the next generation. However, studying at Vietnamese schools is a choice of several foreign students who want to improve their native language.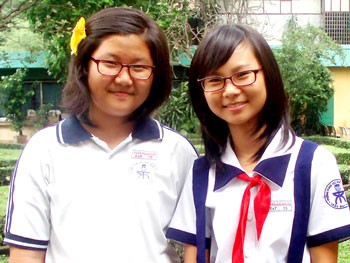 Korean students Yoon Sun Min (R) and Yoon Su Min. (Photo: Sggp)
Yoon Sun Min from Korea is a student of the 8th grade class in Tran Dai Nghia Gifted High School in Ho Chi Minh City.

She studied in the International Primary School and moved to Hoa Binh Primary School in District 1 in the end of the 4th grade class.

She said that she is living in Vietnam and will not be Vietnamese if she can not speak fluently the native language.

Her young sister, Yoon Su Min, 6th grader of Tran Dai Nghia Gifted High School, speaks Vietnamese language better.
Su Min graduated from the primary school and passed the high school entrance examination with high marks.

"Studying at Vietnamese schools helps me learn Vietnamese language and communicate with local people well," she said.

Their parents are teachers of the Department of Korean Linguistics, HCM City University of Social Sciences and Humanities.

The students can speak fluently Korean, Vietnamese and English languages. They will return Korea to study at home universities.