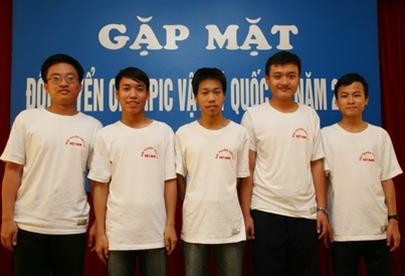 The five students attending the 37th IPhO
Five Vietnamese students arrived in Singapore on July 7 to sit the International Physics Olympiad 2006 (IPhO), scheduled for July 8 to 17, 2006.
They are talented students coming from gifted high schools in the central and northern region of Viet Nam.
The candidates for the 37th IPhO are Tran Xuan Quy from the capital city of Ha Noi, Pham Tuan Hiep from the northern city of Hai Phong, Nguyen Dang Phuong from the northern province of Vinh Phuc, Bui Duc Thang from the central city of Da Nang, Phan Huu Thanh from the north central coast province of Nghe An.
Previously, six other students arrived in Slovenia to participate in the 47th International Mathematics Olympiad, scheduled July 6-18. All of them come from gifted high schools in the northern provinces of Viet Nam.