Vietnamese students have won four third prizes at the Intel International Science and Engineering Fair (Intel ISEF 2016).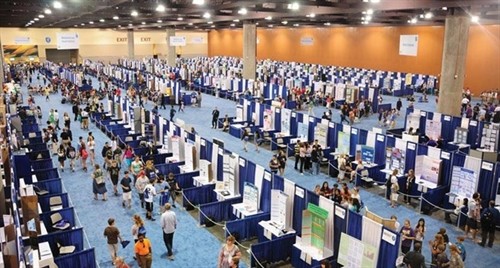 Fairs showcased the competitors' projects at Intel ISEF 2016. — Photo societyforscience.orgViet Nam News
The world's largest international pre-college science competition took place in the United States on May 8-13.The prizes were awarded in the fields of chemistry, environmental engineering, mechanical engineering and cellular and molecular biology, according to the Ministry of Education and Training.
The awarded projects included the "Potential Anticancer Complexes from Platinum and Clove Basil Oil (Ocimum grastissimum L.) by Nguyễn Hà My, 17, and Nguyễn Quang Long, 18, from High School for Gifted Students, under the Hà Nội National University of Education.
The "Rice Straw Phytolith to enhance CO2 capture: Ideas for sustainable management of rice straw and reduction of greenhouse gases from paddy soils" by Phạm Vũ Tuấn Phong, 16, and Nguyễn Bảo Ngọc, 16, from the High School for Gifted Students, under the National University-Hà Nội, won in the Earth and Environmental Sciences category.
The project "Diverse Terrain Wheelchair" by Nguyễn Hoàng Ngân, 18, and Phạm Thanh Trúc, 18, from the Lê Hồng Phong High School for the Gifted in HCM City also won third prize.
In the "Cellular and Molecular Biology" category, Nguyễn Thu Minh Châu, 17, and Hoàng Lữ Đức Chính, 16, from the Thăng Long High School for the Gifted in Đà Lạt City of the central Highlands province of Lâm Đồng won the third prize with their work, "Study on the Ability to Bind and Kill Several Cancer Cell Lines with an Antinuclear Antibody."
The annual Intel ISEF unites top young scientific minds, showcasing their talents on an international stage, where doctoral-level scientists review and judge their work.
This year's competition attracted approximately 1,700 high-school students from 77 countries and territories with 1,374 projects. Việt Nam is among 40 participating countries and territories winning prizes at the competition.Vietnamese students have been participating in the contest since 2012 and have won prizes at every event since then.