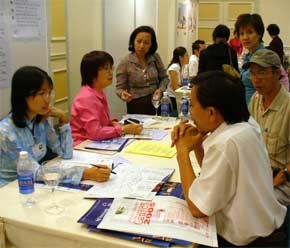 More Vietnamese pupils and parents look for scholarships in international education fairs hosted in Ho Chi Minh City.(Photo:TK)
On two days of July 15-16, the Singapore Temasek Polytechnic will hold meetings at the Southeast Asian Ministers of Education Organization (SEAMEO) Regional Training Center Office in Viet Nam to introduce various courses and special tuitions sponsored by the Singaporean Government to interested Vietnamese pupils and parents.
If Vietnamese students pass the entrance exam, organized on the same days, they will receive a financial scholarship worth up to 80% of the course fee, equal to S$10,342 granted by the Singaporean Government.
Besides, learners can have loans up to 75% of the three-year course tuition and have chance to work in Singapore after graduation.
Established in 1990, Temasek Polytechnic is one of the five most popular and prestigious public colleges in Singapore, having a student population of roughly 12,000 working in 38 majors such as Applied Sciences, Biotechnology, Chemical Engineering, Consumer Science & Technology, Accounting & Finance, Business, Business Information Technology, Business Process & Systems Engineering, Computer Engineering, Electronics, Info-Communications and many other Information Technology majors.
For academic year 2006/2007, the school offers six new full-time diploma courses including diploma in Culinary & Catering Management, Leisure & Resort Management, Integrated Facility Design & Management, Cyber & Digital Security, Financial Business Informatics, and Game & Entertainment Technology.
For registration in examination and further information, interested pupils and parents can contact SEAMEO Regional Training Center, 35 Le Thanh Ton Str., District 1, Telephone 8245618 – 118.