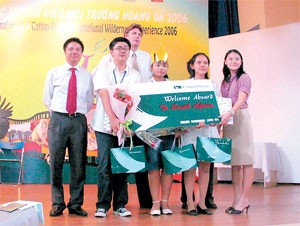 Three Vietnamese winners at the award conferring ceremony (Photo: TK)
The three winners of the contest on wildlife environment, Pham Anh Thu, Nguyen Hai Nhu and Ho Nguyen Bao, will attend an environment educational program in Botshabelo Natural Reserve near Johannesburg, South Africa from August 22 to 30.
Three high school students were honored Saturday upon the final round of the 2006 Cathay Pacific International Wilderness Experience Program jointly held by the Ho Chi Minh City Department of Education and Training, Cathay Pacific Airways, Fauna & Flora International (FFI) and Apollo Education and Training Organization Viet Nam.
Cathay Pacific Airways will pay for all the costs, including air fare, instruction fees, rooming and boarding, and ground transportation in South Africa.
This is the ninth year Cathay Pacific Airways has provided financial support for Vietnamese students to participate in the program. So far, nearly 30 Vietnamese students have taken part in the program.
The contest, launched two months ago, saw the entry of over 100 high school students in Ho Chi Minh City. Contestants must be fluent in English and have good knowledge of environment.
They were required to write an essay in English of less than 500 words on environmental and ecological topics, expressing their views on current problems and offering possible solutions. They were also interviewed to test their language proficiency and conversational skills.
This is the 12th year that this program has been offered, and more than 50 students from China, Sri Lanka, Malaysia, the Philippines, Republic of Korea, Thailand, Viet Nam, Japan, Bahrain, Pakistan South Africa, territoties of Hong Kong and Taiwan will meet in South Africa.
Since its inception in 1994, the Cathay Pacific International Wilderness Experience Program has made it possible for over 500 students to take part in this nature experience. Lots of them are working in the field of environment protection.