Six Vietnamese students won three gold and three silver medals at the 54th International Mathematical Olympiad held in Santa Marta City in Colombia from July 18-28.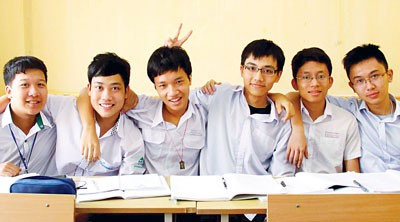 Six Vietnamese students won medals at the International Mathematics Olympiad(Photo:VNA)
The International Mathematical Olympiad (IMO) is the World Championship Mathematics Competition for High School students and is held annually in a different country. The first IMO was held in 1959 in Romania, with 7 countries participating. It has gradually expanded to over 100 countries from 5 continents. The IMO Advisory Board ensures that the competition takes place each year and that each host country observes the regulations and traditions of the IMO.
This year, six Vietnamese students won three gold medals. Vo Anh Duc from Ha Tinh High School won with 34 points, Pham Tuan Huy from Nang Khieu High School with 33 points and Can Tran Thanh Trung from Nang khieu High School with 31 points.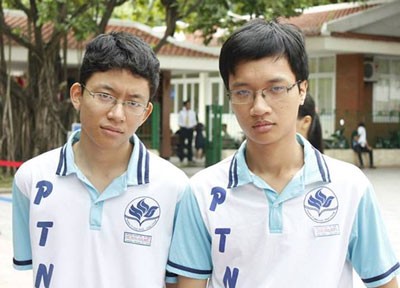 Can Thanh Trung (L) and Pham Tuan Huy from Nang Khieu High School won gold medals at the Olympiad (Photo: Huyen Huong)
Dr. Nguyen Thanh Hung, Vice Principal of Nang Khieu High School, said that Tuan Huy and Thanh Trung are both excellent. Particularly, Tuan Huy is a champion and excelled in the national exam this year.
Three other Vietnamese students won silver medals, namely, Dinh Le Cong, Tran Dang Phuc and Hoang Do Kien.