Two teams of Vietnamese students won two top prizes at categories Apprentice and Veteran at the 2016 International Robothon Contest for primary and secondary students in Malaysia on December 4.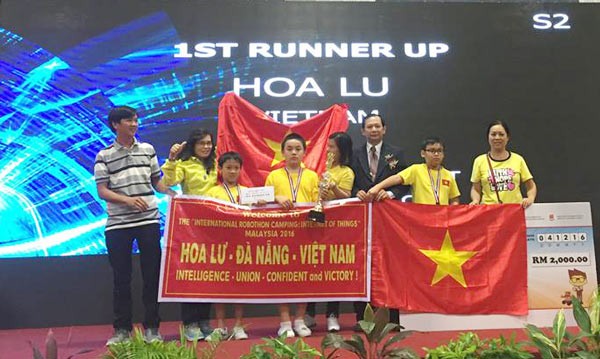 (Photo:sggp)
In addition the two teams from Tran Cao Van and Le Quy Don Schools in the central city of Da Nang winning the first prize, Vietnamese students from Hoa Lu and Le Quy Don schools in Da Nang City, Dinh Tien Hoang Primary school in Ho Chi Minh City and Nguyen Tat Thanh school in Hanoi also captured two second prizes, two third prizes and four encouragement prizes.
Contestants had to make robots and program them to collect and deliver data.
The Digital Youth Award Robotics for Children is an annual technological and educational competition providing an applied information technology and science platform for primary children. Southeast Asian countries will take turn to organize the competition. Carefully selected 53 teams from Ho Chi Minh City, Da Nang and Hanoi were sent to the international contest.
The theme of the competition was "Internet of Things (Iot)" in which participants assemble robots to collect and data analyze information. Vietnamese students were trained knowledge for the contest and English to have conversation with their international friends.