At the Thanh Nien newspaper office, Ms. Nguyen Thi Binh, the honorable chairwoman of the Vietnamese Talent Training Fund, received 350 scholarships from The Saigontech College, the sole Vietnamese branch of the Houston Community College (HCC).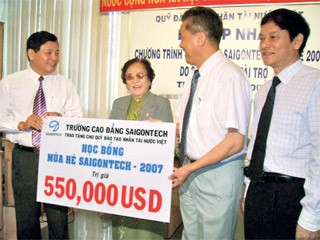 Ms. Nguyen Thi Binh(2,L) receives scholarships worth US$ 550,000
The scholarships worth a total of US$550,000 are open to application from high school students applying to go to HCC in the summer of 2007.
The student grants managed by the Viet Nam Talent Training Foundation are each worth from US$450 to US$4.500.
Applications for scholarships should be sent to the Thanh Nien Newspaper office at 248 Cong Quynh Street, District 1 or House No.6, Quang Trung Software Park, District 12, HCMC from April 2 to June 2.