Vice Principal of Duc Tri Secondary School  in district 1 Nguyen Thi Lieu excellently won the first global Pitch prize at the 2015 Microsoft Global Education Forum under theme "Global Educator Challenge" in the United States after passing over 250 teachers from 87 countries.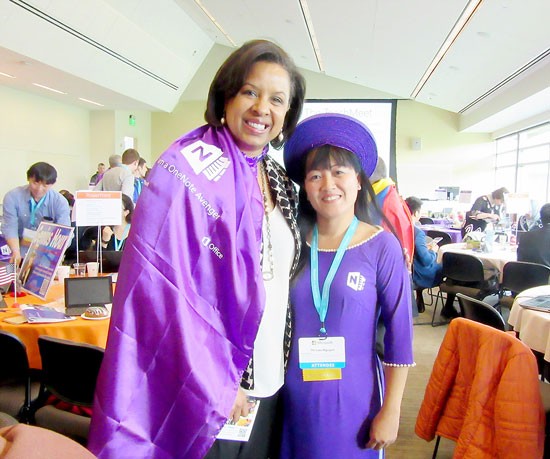 Educator Nguyen Thi Lieu wears the Vietnamese long violet traditional dress- Ao dai at the 2015 Microsoft Global Education Forum. (Photo:SGGP)
This is the first time that two Vietnamese teachers have been honored at the event, including Nguyen Thi Lieu from Duc Tri Secondary School and Ngo Thanh Nam from Vietnam - Australia Primary School in Ho Chi Minh City.

Global Educational Forum aims to recognize and honor great achievements of educators in training learning and living skills for students in the 21th century.

Participating in the contest, educators were divided into 44 groups.

Each group only had 24 hours to do its project, and four minutes for persuading board of examiners.

Nguyen Thi Lieu's group consisted of five members from Vietnam, Republic of Ireland, Lithunia, United Arab Emirates and Chile, selecting theme of "Sharing Information, Saving Lives".

With the theme of "Sharing Information, Saving Lives", her group showed a situation about students in two countries implemented together a cooperative project of giving measures to cope with the natural disaster, shared educator Lieu.

Addressing the audience at the forum, Vietnamese teacher presented to the impressive English speaking for project "Tech Teach Meet".

With impressive and smooth English presentation, the organizational board awarded the first global Pitch prize to Lieu's team.

The forum had six award categories, including Product Innovation, Mind Shift, Overall Challenge, Learning Activity, Project Plan and the Pitch.