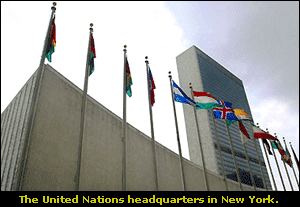 The UN headquarters in New York where the UN Global Youth Leadership Summit will be held
Former Da Nang University student Pham Thi Thanh Nhung will represent Viet Nam's youth at the United Nations Global Youth Leadership Summit scheduled for October 29-31 in New York.
"Accelerating development and peace through culture" is the theme of the meeting that is expected to see the attendance of 350 young leaders from 192 United Nations member states.
Along with a group of talented young leaders, Nhung's project "Awareness and action in environmental protection among the young in Da Nang city," won the top prize of US$5,000 at a 2004 environmental competition launched by the Swedish International Development Association's (SIDA) Environmental Fund (SEF) in Hanoi.
She then won a ticket to the United Nations Global Youth Leadership Summit.
The summit will bring together young leaders from 192 member states of the United Nations, a historic event supported by Secretary-General Kofi Annan, chairman of the summit, and other world political leaders.