Vietnam's Ministry of Education and Training and the United Nations in Vietnam co-organized a ceremony in the northern province of Vinh Phuc on Nov. 19 to mark Vietnamese Teachers' Day, Nov. 20 and World Teachers' Day, Oct. 5.
Addressing the ceremony, Deputy Minister of Education and Training Nguyen Vinh Hien emphasized teachers' key role in forming children's lives and socio-economic and knowledge development of nations.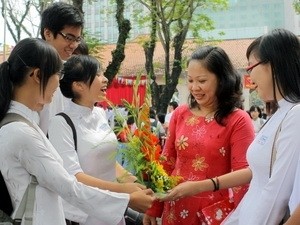 (Vietnam News Agency file photo)
The ministry has actively carried out many programmes to further improve teachers' working conditions, Hien said.
To ensure sustainable educational development, the ministry has developed teaching staff and education managers in both quantity and quality, encouraged young people to become teachers and authorized teachers in implementing educational programmes, he added.
UNESCO chief representative in Hanoi Katherine Muller-Marin affirmed that the UN is assisting the ministry in building teacher training models to help increase teachers' understanding about a number of issues in education.
UNESCO welcomes the Vietnamese Government's commitment to improving overall conditions for teachers and is willing to cooperate with the ministry in enrolling teachers and improving teachers' capability, she said.
Also at the ceremony, the ministry and UNESCO presented awards to the winners of the photo contest, "Teachers' portraits in daily life and at work" launched from Oct. 28 to Nov. 15, 2010, nationwide.
The first prize was handed to Nguyen Van Thuong's photo "The class in a border area" and the second prize to Phan Van Hien's photo of a Cham ethnic class while the two third prizes went to photos by Ngo Van Tinh and Nguyen Van Thuong.