Internet-based Mathematical Problem Solving Competition - ViOlympic 2015 was officially launched in Hanoi on September 18, with the participation of over 700 students and teachers from primary, secondary and high schools in the northern region.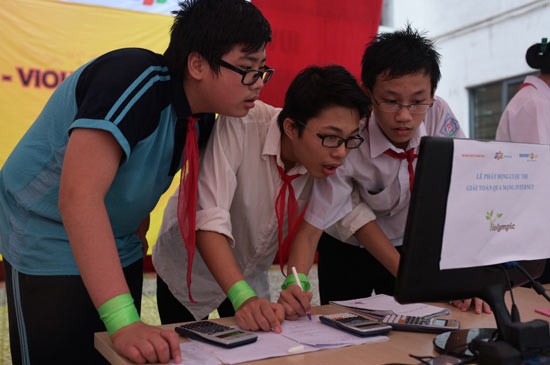 Students compete 'Vi-Olympic' Internet-based Maths Contest. (Photo:SGGP)
Maths Mathematical Contest via Internet aims to promote and encourage pupils nationwide to practice mathematical solving in English.
Moreover, the organization board wants to create a useful playground for talent students to study and practice math.
Violympic mathematical solving and studying e- book in English for primary and secondary school students is issued through updating Android and iOS operating system on smart phone or tablet.
The competition will continue to be taken place in the central and southern provinces.
ViOlympic is organized by the Ministry of Education and Training in collaboration with FPT Group and University for primary, secondary and high school students nationwide.
In the 2014-2015 academic year, 20 million pupils from 63 provinces at primary and secondary schools nationwide has registered to join the competition.