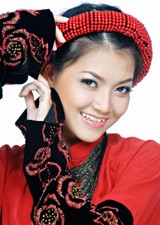 Thanh Ngoc singer
The HCMC Women's Union Association (HWUA) in cooperation with the Hoa Binh Corporation organized a music program entitled "Light Dreams" on August 23.
"Light dreams" was a charity music program to raise funds for the Nguyen Thi Minh Khai Scholarship Fund which aims at helping orphaned and disabled children as well as poor students who achieve good academic results.
As many as 20 renowned singers took part in this program including Kasim Hoang Vu, Nguyen Phi Hung, Thanh Ngoc, Hien Thuc, Dan Truong, Cam Ly, and Quang Linh.
More than VND 2.2billion were collected for the academic year of 2008-2009. A representative from HWUA reported that the Nguyen Thi Minh Khai Scholarship Fund provided nearly VND 50billion over the last 18 years. During that time, 150,385 scholarships were awarded to poor students with each one worth up to VND 1.5million.