Sai Gon Giai Phong Newspaper and the Department of Education and Training of Ho Chi Minh City and Prudential Vietnam Company jointly organized the awards ceremony of the 18th Vo Truong Toan Award for the year 2015 yesterday evening.
Outstanding teachers receives the 18th Vo Truong Toan Award. (Photo: SGGP)
Attending in the meaningful ceremony were Head of the Department of Propaganda and Training of the HCMC Party Committee Than Thi Thu; Deputy Chairman of HCMC's People Committee Le Thanh Liem; Vice Director of representative office of the Ministry of Education and Training in HCMC Nguyen Viet Dung; Director of Department of Education and Training of ho Chi Minh City Le Hong Son; and representatives of the city's departments, organizations and agencies.

At the awards ceremony, Editor in Chief of Sai Gon Giai Phong (SGGP) Newspaper Mr. Nguyen Tan Phong appreciated highly great contributions of teachers, lecturers and staffs in the city's education sector in previous time, adding that the teachers would continue to contribute more to Vietnam education sector.
Vice General Director of Prudential Le Tri Thong expressed his pride as an annual sponsor contributing to keep and develop the country's learning tradition.
Director of Department of Education and Training Le Hong Son said: "The annual Vo Truong Toan Award becomes an annual meaningful event aiming to honor outstanding teachers who have overcome difficulties and hardship in their career and life to fulfill their tasks in the education sector".

Nguyen Thi Ngoc Han, a conscientious teacher from Nguyen Dinh Chieu High School for Blind, who is one of 33 outstanding teachers receiving this award, shared: "In order to become a good teacher, i have tried my best to understand clearly the students' family background conditions, hobby, habit as well as psychology to find suitable teaching methods".
Nguyen Thi Thu Cuc, a principal of Gia Dinh High School also said: "To motivate students like any subject, the teacher is considered as an important factor contributing to evaluate level as well as abilities for acquiring knowledge and using it in concrete situations.

The Vo Truong Toan Award is co-organized by Sai Gon Giai Phong Newspaper and Prudential Vietnam Company, aiming to honor good teachers' contributions for the country's education sector on the occasion of the Teacher's Day- November 20.
More than 540 teachers received the Vo Truong Toan Award during past 18 years. This year, the organization board selected 33 out of 70, 000 teachers from kindergartens, primary schools, secondary schools, high schools, vocational schools and colleges in the city to confer on the 18th Vo Truong Toan Award.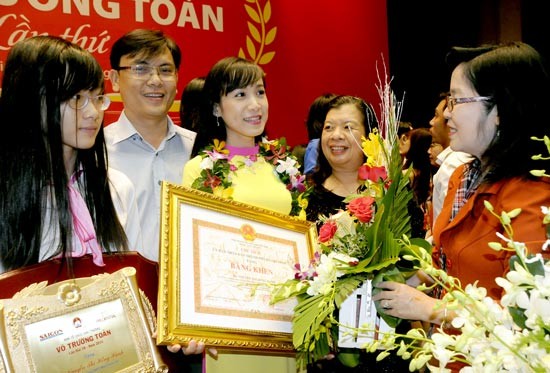 A teacher from Mac Dinh Chi High School receives the 18th VTT award. (Photo: SGGP)