Apprenticeship is regarded as a door open for students who cannot enter universities or high schools, but in practice, hundreds of thousands of such students do not know what to learn to have a job, said Hoang Ngoc Vinh, Ph.D., head of the Professional Education Bureau of the Ministry of Education and Training.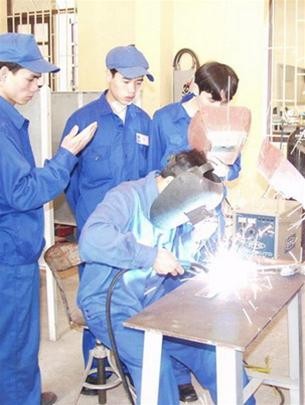 Students practice welding at a vocational school of the Capital Military Zone
He made this comment in a talk with Sai Gon Giai Phong regarding this issue on Thursday.
About the fact that many students opt not to enter vocational schools when they fail to enter high schools or colleges, Mr. Vinh explained that since the late 1990s, vocational training has fallen into a crisis resulting from the impact of an economic recession and from changes in relevant policies.
Being trained in a low-quality system that has yet to meet increasingly high requirements of the labor market, many graduates from vocational high schools fail to obtain a job. As a result, the number of students entering vocational high school has declined.
The low quality of the vocational education system is a result of inefficient investment that focuses on input, that is, enrollment, without paying due attention to output – the actual qualifications of graduates and job opportunities, Mr. Vinh stressed.
In addition, the low quality is also caused by ineffective and overlapping management of vocational training by the agencies concerned, from central to local levels. For example, the Ministry of Labor, War Invalids and Social Affairs and the Ministry of Education and Training use two different vocational training systems, he noted.
The policies and mechanisms concerning vocational education are not yet attractive to students. Every year there are about 550,000-600,000 students who are not qualified for high school. Of these, 120,000 have to take supplementary training courses and only 100,000 go to vocational training schools. As such, more than 300,000 students do not know where to go to continue their studies.
There has been a gap between training standards and curriculum, according to Mr. Vinh. This causes difficulties in the transition from vocational secondary school to higher education. In addition, regulations on transitional training are not transparent and consistent in terms of standards, programs and quality evaluation.
In order to improve the quality of vocational training, by January 2009, vocational high schools must revise their training objectives and set up training programs in which the time allocated for practice accounts for 50-70 percent of training period, Mr. Vinh said.
The country now has 500 vocational high schools. However, they are allocated unequally and too many are in major cities and provinces, said Mr. Vinh. Bac Kan, Lai Chau and Hau Giang provinces have no vocational high schools at all, he added.