It is impossible to renovate vocational teaching methods and improve training quality while students have to learn on machinery that dates back 30-40 years, said delegates at an education seminar held by the Ho Chi Minh City Department of Education and Training on January 23.
Speaking at the seminar themed "Renovation and development of HCM City's vocational training," Dr. Do Ky Cong, headmaster of the Ly Tu Trong Technical College said: "Our school needs a lot of machinery to meet the learning needs of nearly 8,000 students, but most of the equipment is obsolete and in bad condition.
"The school has upgraded its workshops that were built in the 1960s, but all of them are still below required standards for a modern engineering school," he said.
"We speak so much about international integration in the era of globalization, but what can we expect to achieve with such outdated facilities," Dr. Cong added.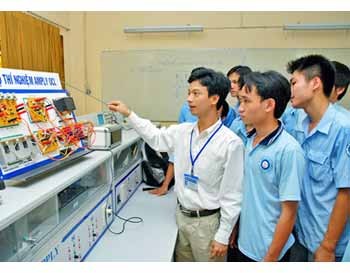 Students study electronics at the HCMC Vocational Training College. The city will strive to reorganize its vocational training system to boost training quality, said Huynh Cong Minh, director of the city Department of Education and Training at a seminar on January 23.
(Photo: SGGP)
Although HCM City's vocational education system has improved greatly in the last 15 years and is now considered the best in the country, it still has a long way to go, said Dr. Huynh Cong Minh, director of the department.
"Public vocational schools have fairly good technical facilities but they still need improvement, and the situation at private schools is worse. Thus, vocational schools find it very hard to compete with universities and colleges in terms of enrollment. Many have failed to reach goals and some have reported meeting just 25 percent of enrollment targets," he said.
Moreover, many students see vocational schools as a fallback option only if they fail their university entrance exams, and will drop out as soon as they are accepted somewhere they feel is more prestigious.
Quality, not quantity
Bui Thi Nguyet Anh, headmaster of privately-owned Van Tuong Economics and Engineering High School, said: "In the past few years, numerous non-state-owned vocational schools have been set up. In HCM City alone, there are 30 new schools compared with just a few in 2001. Many of them are not qualified in terms of teaching staff, curricula and management, so their training results are poor and many graduates cannot find jobs since they don't meet employers' requirements."
According to education expert Bui Van Truc, recruiters are ready and willing to employ qualified graduates, but many schools have simply not trained students adequately.
Ho Quang Minh, an expert of BeeLogistic Co., said: "Many students have only theoretical knowledge and have not received adequate hands-on training from their schools."
An imbalance in training programs is also problematic, said delegates at the conference. Many schools have rushed to launch "hot" faculties that are popular with students such as tourism, IT, finance and banking, nursing, and pharmaceutics to name few. Other fields which desperately need skilled workers, meanwhile, like husbandry, land management, mechanics, and food processing, are largely ignored by both schools and students.
In addition, HCM City has fallen short in predicting demand for trained human resources, while failing to earmark enough land for school infrastructure development. The overlapping of vocational training courses between schools, moreover, has weakened the city's overall training outcomes, said Hoang Ngoc Vinh, director of the Vocational Training Department at the Ministry of Education and Training.
City determined to improve vocational system
Looking to the success of Singapore's education system, "HCM City is determined to build a system of high-standard vocational schools that meet quality requirements in the labor market," Dr. Minh said. 
"To boost the development of vocational training, teaching methods will be expanded and closer connections between schools and employers will be set up," he said.
HCM City will strive to have some schools meet regional and international training standards by 2015, will rearrange its vocational school system, and build four new schools in District 9 and Binh Chanh, Cu Chi and Nha Be districts, he added.
Public vocational schools that have been supported by the State budget must expand training to meet the city's needs, while private schools should be assisted by the Government in leasing land and obtaining soft loans so they can sustain operations, said Hoang Quang Thanh from privately-owned Phuong Dong Economics and Engineering High School.
Hua Ngoc Thuan, deputy chairman of the city People's Committee, urged the city Department of Education and Training and other relevant agencies to coordinate in recruitment and training to improve the quality of teaching and studying.
The country now has 503 vocational high schools and 230 universities, colleges and institutes that include vocational training in their educational systems, according to a report released at the seminar.

In the 2008-2009 school year, these training entities admitted 625,770 students, two and a half times more than that in the 2000-2001 school year, the report said.