Vietnamese vocational schools will set out to recruit and train 1,748,000 people in 2010, aiming to raise the ratio of skilled workers nationwide to 30 percent. The specific type of training offered should reflect market demand and requirements, said head of the General Department of Vocational Training Nguyen Tien Dung.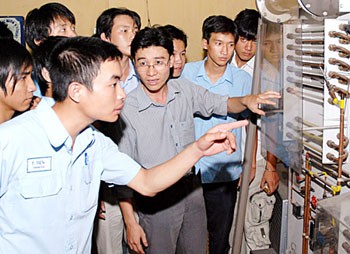 Students at the Ho Chi Minh City Vocational College. Career-training institutes and companies need to work together to ensure graduates' skills meet the needs of employers, said head of the General Department of Vocational Training Nguyen Tien Dung. (Photo: SGGP)
In 2009, around 1.7 million students received some form of vocational training at institutes across the country.
Vocational colleges trained 89,000 students, vocational schools trained 198,000, and vocational training centers trained around 1.42 million students.
However, Mr. Dung said that the quality and effectiveness of the training has so far failed to meet market requirements.
To date, vocational centers and schools have recruited students themselves and held their own examinations. But starting this year, the General Department of Vocational Training will manage and monitor schools' recruitment policies to increase the quality of students, said the department head.
In addition, the department will spend more time examining the quality of vocational school programs in 2010. While the number of institutes has increased rapidly nationwide, many focus more on the quantity of students rather than the quality of training.
In 2009, 17 more vocational colleges and 50 more vocational schools were established, taking the total tally in Vietnam to 107 and 264 respectively.
The country now has 864 vocational training centers and over 1,000 other vocational establishments.
Mr. Dung said the General Department of Vocational Training had investigated some schools and discovered that there were many problems in recruitment, training, and curriculums.
In addition, the infrastructure of some schools had not kept pace with the number of recruited students.
The department in 2010 will investigate all vocational schools and permit only those who meet infrastructure, teaching, and curriculum standards to continue operating.
Vietnam now has 21,630 vocational teachers, with 3,650 working in vocational colleges, the department said.
Most of the teachers graduated from high school and went on to study at vocational schools. They were then selected for further training in education to become vocational teachers. 
As a result, the quality of many such teachers is not high, the department said.
To improve teaching quality, the department is concentrating on training vocational college teachers to instruct in 188 different fields.
Over the next few years, there will be a new generation of teachers qualified to train students in 188 careers in accordance with market demand, Mr. Dung said.
Companies, schools need better cooperation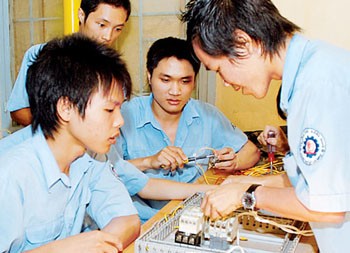 Students practice assembling capacitors at the Ho Chi Minh City Vocational College. (Photo: SGGP)
One of the biggest problems nowadays is that vocational graduates report difficulty in finding jobs, while businesses still lack human resources.
Mr. Dung said there are many reasons for this. Some students choose vocational programs for which there are very few actual careers available, while others fail to meet businesses' skill requirements. Many enterprises report having to retrain workers after hiring them.
Vocational schools should thus cooperate with businesses in specifying what the firms require and train students accordingly, said Mr. Dung.
Training institutes should also be more active in forming relationships with businesses by establishing specialized departments, which would be responsible for calling on companies to participate in the training process.
The General Department says it will soon begin instructing vocational schools to start implementing changes.