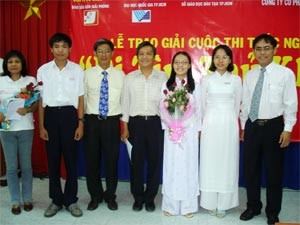 Winners and jury members at the award ceremony (Photo:VH)
The first prizes of the competition "Looking for top scoring student" were given to Huynh Kim Phong, student of High School for Gifted Students and Tu Ngoc Phung, student of Tran Dai Nghia High School.
Getting the score of 97/100 points, the two students persuasively won the highest prizes in the competition.
Four other students with the same score of 96/100 points won the runner-up prizes. They are Pham Duc Duy from Le Hong Phong Gifted High School, Do Hai Anh from Le Quy Don High School, Nguyen Thi Hong Hanh and Tran Thi Thu Hien from High School for The Gift.
One point less than the runners-up, three students namely Tran Thi Ngoc Huong, Ha Pham Doan Trang from Le Hong Phong High School of Gifted Students and Nguyen Hoang Minh Ly from Tran Dai Nghia High School shared the third prizes in the contest.
Student Hong Hanh, the runner-up prize winner, said that the competition held before the official matriculation is a good preparation for learners to successfully sit the exam.
The award ceremony of the competition was held on May 12, 2006 at the Sai Gon Giai Phong Newspaper's headquarter.
Attending the award ceremony were officials from the Ho Chi Minh City (HCMC) Department of Education and Training, representatives of Sai Gon Giai Phong Newspaper and the sponsor.
The competition, financed by Viet Nam Dairy Products Company (Vinamilk), was jointly organized by the Sai Gon Giai Phong Newspaper, the Viet Nam National University – HCMC and the HCMC Department of Education and Training.