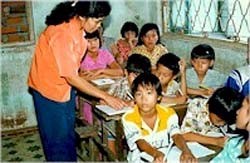 Homeless children in a charitable class in Ho Chi Minh City
The World Bank expert team held a working session with the Ministry of Education and Training (MoET) and the PEDC Coordination Board in Ha Noi, on May 4, starting the 17-day inspection on Primary Education for Disadvantaged Children (PEDC).
This is the fifth inspection since the project's start. The team will collaborate with the MoET functional departments and relevant agencies to work out a specific plan for the next six months and following years on training teachers and managerial staff in underprivileged areas. They will also go on fact-finding tours to pin-point difficulties and seek out solutions in the project's implementation.
Nearly 20 international experts in the team represent the project's sponsors, which are the Canadian International Development Agency (CIDA), the UK Department for International Development, the Embassy of Norway and the WB.
Dang Tu An, director of PEDC's Coordination Board, reported that after two years, the project had disbursed only 18.4 percent of the total capital due to delays in technical economic reports, surveys and approval procedures. To reduce costs, the board proposed changes to the consultancy bidding method and to the standard designs for schools built under the project .
In response to the suggestions, Carol Ball, of the WB East Asia and Pacific Human development sector, agreed to increase the construction price to 130 USD per sq.m and allow the use of light materials in certain areas.

Source: VNA