The University of Natural Science's youngest PhD holder, 27-year-old Nguyen Huy Tuan, received an "Excellent Researcher" certificate of merit on June 17.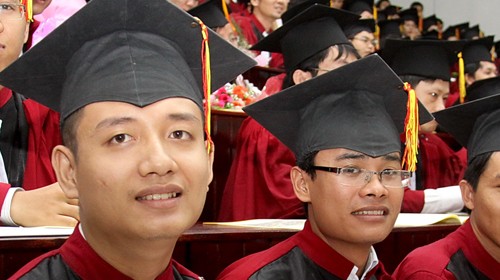 Twenty-seven year old PhD Nguyen Huy Tuan at his graduation (Photo: Tuoi tre)
The university, which operates under Ho Chi Minh City's Vietnam National University system, granted the certificate to the student in the Math-IT Faculty after Tuan published two research papers in international magazines recently.
His achievements and good study records helped move straight from his bachelor's degree to a PhD program without ever studying for a master's degree.
He has published a total 15 of his scientific works in international magazines so far.
Another young Vietnamese student, Vu Duy Thuc, became one of the first young Vietnamese to earn a PhD at Stanford University in California on June 14.
His doctoral thesis received high marks from Stanford's Scientific Council because the research combined theories of math and optimality theory to provide more solutions for puzzles only limited solutions. The puzzles have been studied for 40 years.
Thuc has conducted over ten research works in international magazines since he was a sophomore. In addition, he won first prize at a computer competition for senior high school students that took place in Vietnam and the United States.
Thuc also won the honor of the "Excellent Student" title at the Computing Research Association and his achievements at Carnegie Mellon University enshrined his name forever on the school's honorary board.
After he graduated from the school, seven colleges – including MIT, Stanford, Carnegie Mellon, Berkeley, USC, University of Washington and University of Massachusetts Amherst – agreed to provide him a scholarship for his PhD training.