People in HCMC consume around 100, 000 fowl a day, approximately 10 percent of which is being smuggled into the city out of the government's control, according to a report by the Ho Chi Minh City Department of Animal Health.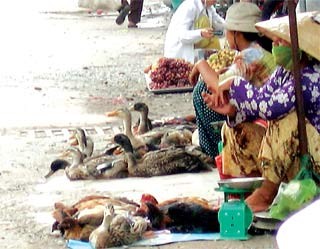 Live poultry is displayed for sale in the suburb market of Ho Chi Minh City
Vice head of the department, Truong Thi Kim Chau made a statement on May 28 saying that the poultry smuggling has been increasing due to low public awareness of the bird-flu virus.
Only poultry with certificates of quality are meant to be imported into the city for killing at one of the three slaughter houses; however, discrepancies have appeared in test results on poultry that is supposedly safe.
Moreover, the city's Department of Animal Health found that unvaccinated poultry were being transported into the city amongst vaccinated flocks. Such wrongdoings are due to receive harsh punishment.
Due to the increasing widespread of bird flu, the district steering boards for bird flu prevention are required to have strict punishments for those who intentionally violate the law, selling live, unsafe fowl.

Local anti-smuggling and trade-fraud forces have been told to work harder to prevent smugglers.
The market management boards have also been advised to strengthen their surveillance on poultry products being displayed for sale in markets.
Veterinary teams and other relevant agencies are continuing their supervision work, traveling between towns to give penalties to illicit live poultry shops, especially flea-markets in the streets of Quang Trung, Phan Van Tri, Pham Hung, Ha Huy Giap and Tham Luong Bridge.
Further a field, Da Nang city's Steering Board for bird flu is determined to prevent all chicken importation into the city in spite of certificates of origin.
Vets are instructing people on how to help fight the disease at farms and large-scale slaughter houses. All forces have been called upon to help carry out the sterilization procedures that are scheduled for completion before June 5.